The Bureau of Meteorology on Sunday issued a severe weather warning covering a wide swathe of the region, from the northern Sunshine Coast to Coolangatta on the Queensland-New South Wales border, and west out to Gatton.
Predictions evolved throughout the evening and by midnight the warning was limited to a wide strip further west, from inland of Bundaberg down to the border at Stanthorpe.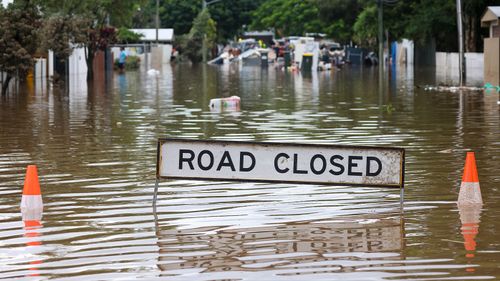 The severe weather is due to a coastal trough over the south-east, which is only expected to deepen in the next two days.
Heavy rain was expected from Sunday night, with widespread falls of up to 180mm.
Even larger falls of up to 250mm are predicted in isolated spots where thunderstorms are forecast.
Some parts of the region recorded falls of close to 100mm in the course of just a few hours on Sunday.
There is a risk of flash flooding on Monday and Tuesday as well, with northern NSW facing the same problem.
Forecasters have said it won't take much rain to raise the water level to flooding, due to the saturated ground left by recent weather events.