More than half a dozen emergency alerts have been issued across Queensland as a trough pummels the state's south east, causing life-threatening flooding.
Up to 260 homes in Laidley, in Lockyer Valley, south-west of Brisbane, are at risk of flooding and emergency sirens have rung out at nearby Grantham to urge residents to high ground as the "unseasonable" weather system barrels south.
Schools across the state are also closing due to flooding access and hazardous surf is pounding a large swathe of coastline from Fraser Coast down to the Gold Coast.
The Bureau of Meteorology (BoM) said today will mark the "peak" of the weather system that has caused chaos across Queensland's outback, Far North – and now the south.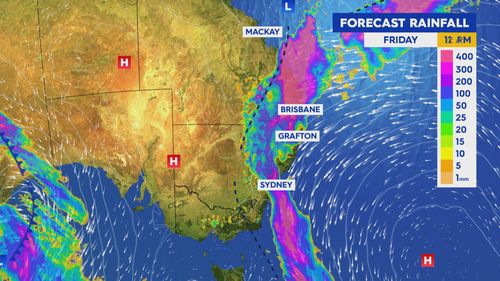 Emergency alerts are currently in effect across Gympie, Lockyer Valley, Warwick, Millmerran, Mount Tarampa, Minden, Patrick Estate, Stanthorpe, and the Scenic Rim.
Dozens of catchments are spilling their banks, with the Bureau issuing dozens of flood warnings ranging from major to minor.
Multiple rescues are also unfolding in Laidley, with reports some residents are trapped inside homes in South Laidley as waters rapidly rise.
The town will be one of the hardest hit communities today, Senior Bureau forecaster Christie Johnson said.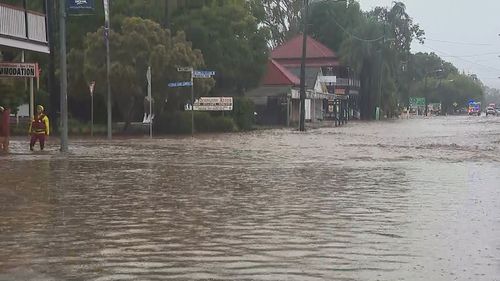 9News reporter Jess Millward was on the town's main strip when the water started pouring into the street.
"This is the main street of this town," she said indicating behind her.
"It has been completely swallowed by water. In the past 20 minutes we've been here, the water has come up very, very quickly.
"We've got some people stranded at the pub that you might be able to see.
"The water, I just cannot believe how quickly it is coming up."
Swiftwater rescue crews rushed to the scene as a number of vehicles had become trapped in floodwaters.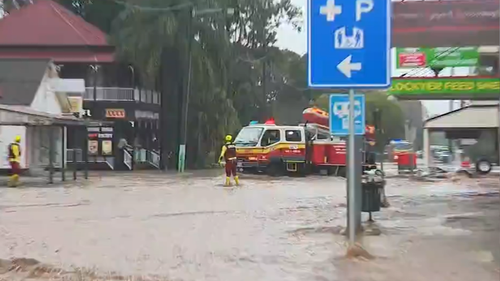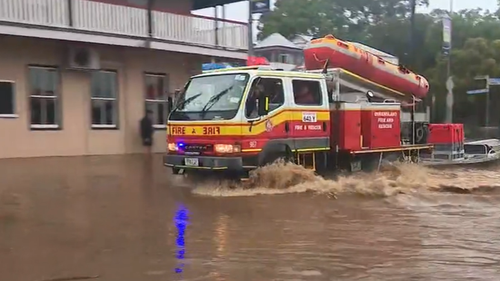 Earlier this morning Laidley Creek broke its banks at Mulgowie and it's now threatening lives homes and businesses.
The Grantham Siren was activated earlier this morning "to give residents time to move to higher ground" as saturated catchments spill over.
The council have asked people in low-lying areas across the Lockyer Valley to leave this morning, ahead of official evacuation orders.
"In response to the most recent weather forecast, all residents in low-lying areas subject to flooding are being urged to self-evacuate," the local council said, adding waters are rising rapidly.
Heavy rain to continue but 'this could be peak'
Heavy downpours will continue today, with forecasts predicting up to 200 mm across the Capricornia to the NSW border, leading to life-threatening flash flooding.
Johnson said this could be the peak of the rain event.
"Today is possibly the peak day. We're on the end of it, hopefully things will improve soon," she said.
"It will start to clear away into later tomorrow.
"Right now it is the south-east that's being hit the hardest…The rain's continuing to fall.
"We're expecting a further 100 to 200mm today right through that hinterland area from the Capricornia and Wide Bay areas right down to the Sunshine Coast and even down to the Granite Belt as well."
9News understands SES personnel are also door-knocking in Grantham to urge residents to move on.
'Terrifying': Emergency sirens ring out across Grantham
An emergency siren also rang out across the town, which resident Linda Godley branded "terrifying".
"We didn't have any sirens yesterday or the day before, so this is the first time we've had the sirens," she told Today.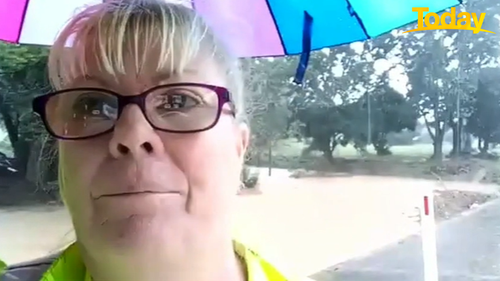 "We don't know what's going to happen. You know we can't do this again.
"It's destroying our whole family. It's destroying everything, you know, you can't think, you can't sleep, we're so tired but you are to scared to sleep."
Colleges Crossing in Ipswich has also gone under, the second time it's been swallowed by floodwaters since February.
Earlier this morning Millward observed "water creeping up through the drains" in the CBD.
Images from Transport and Main Roads Queensland also show extensive flooding around Somerset Regional Council.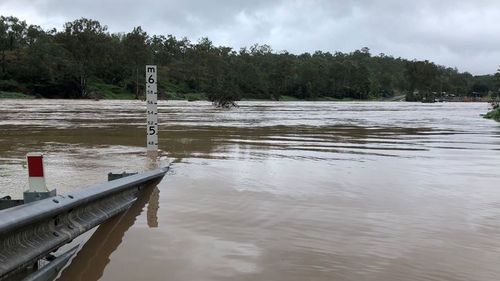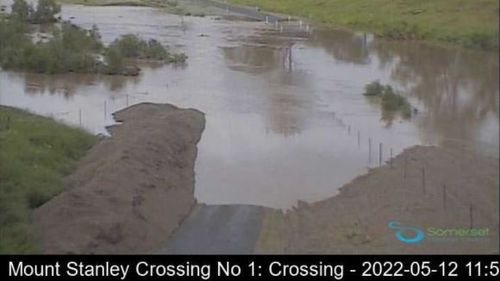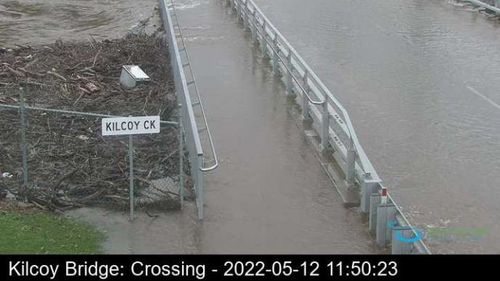 Major flood warnings have been issued for: the Cape River, Warrill Creek, Bremer River, Laidley and Lockyer Creeks, Logan River, Condamine River, and Cooper Creek.
A moderate flood warning is also in place for the upper Brisbane river, while the lower reaches have a minor flood risk.
Queenslanders needing rescue
Queensland Fire and Emergency Services (QFES) said seven swiftwater rescues were carried out overnight.
Queensland Ambulance said they were called to four separate rescues from yesterday to this morning, where residents had become trapped in their vehicle in floodwaters.
One man was assessed and did not require transport to hospital, two declined assistance and one did not require service, they said.
Another man was found safe in Gympie after an extensive search was launched from a campsite.
The 36- year-old walked all through the night to Kandanga after chasing his dog into bushland from a campsite south of Gympie.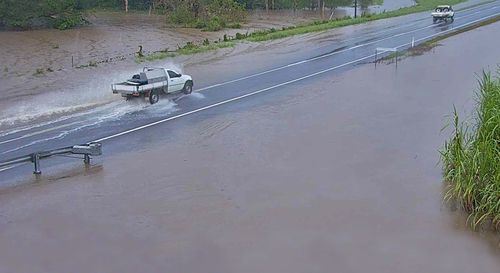 Amid the extensive flooding authorities are imploring residents not to risk driving through floodwaters.
QFES State Operations Centre Coordinator James Haig yesterday said locals need to "pay attention to conditions" and "plan their routes carefully".
'Saturated soil' to increase risk of flash flooding
The wet weather is being caused by an unseasonable upper coast low and moisture stream.
The weather bureau has warned severe storms are possible for central and south-east Queensland today.
"Storms likely to contain heavy rainfall, damaging wind gusts possible. Saturated soils likely to exacerbate flash flooding risk for parts of Sunshine Coast, Wide Bay, Capricornia, Darling Downs."
While heavy downpours will ease again today, the rain will intensify again on Saturday.
A hazardous surf warning is currently in place from the Fraser Coast down to the Gold Coast with the Bureau warning swells of more than three metres.
Satellite and radar image shared by Weatherzone shows a 3000km moisture stream all the way from North Queensland down to northern Tasmania.
The system is causing wet weather through much of the east coast.