The Australian Government updated its travel advice on Monday night and also directed dependants of embassy staff in Kyiv to leave, "reflecting the increased risk of armed conflict".
"Australians in Ukraine should leave now by commercial means, where safe to do so, noting that flight availability could change or be suspended at short notice," a Department of Foreign Affairs and Trade spokesperson said.
"Security conditions can change at short notice. Consular services and our ability to provide consular assistance to Australians may be limited due to local circumstances.
"Australians who decide to remain in Ukraine should review their personal security plans, be prepared to shelter in place if required, maintain heightened security awareness and register with DFAT.
The United States-led military organisation said it was beefing up its "deterrence" presence in the Baltic Sea area.
Denmark is sending a frigate and deploying F-16 war planes to Lithuania; Spain will also send warships and could send fighter jets to Bulgaria; and France stands ready to send troops to Bulgaria.
"I welcome allies contributing additional forces to NATO," NATO Secretary General Jens Stoltenberg said.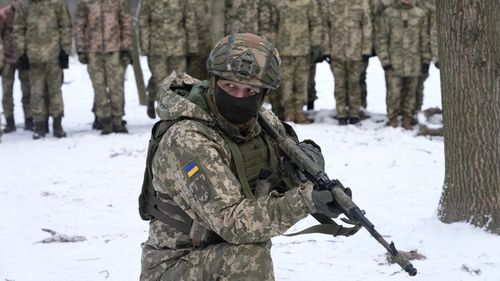 "NATO will continue to take all necessary measures to protect and defend all Allies, including by reinforcing the eastern part of the Alliance.
"We will always respond to any deterioration of our security environment, including through strengthening our collective defence.